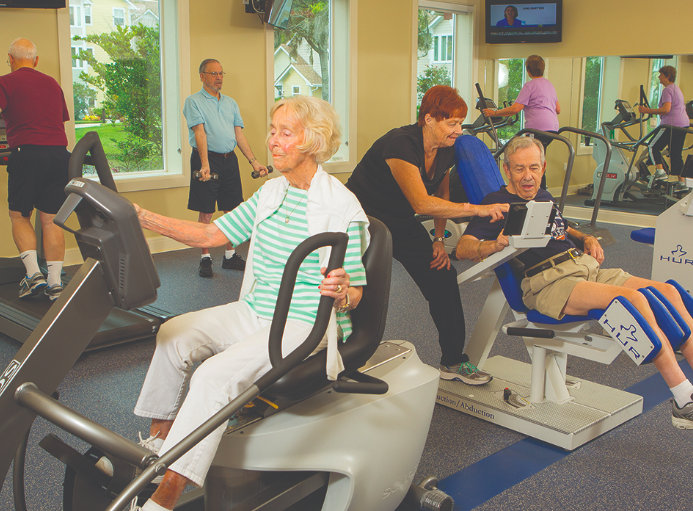 Ah, retirement! The grand stage of life where your time is yours, to do with as you please. The beautiful retirement community of Vicar's Landing in Ponte Vedra Beach, Florida, offers retirement living at its finest. Located within the gates of the prestigious Sawgrass Players Club, Vicar's Landing Members enjoy a country club lifestyle with all the amenities. Options for an active, vibrant lifestyle are everywhere throughout the community.
Cultural pursuits abound at Vicar's Landing. Indulge that creative spark at the first-class Art Studio, where Members can continue to pursue favorite hobbies or take up new ones. Areas for woodworking, stained glass, painting and more are available for Members to use. There is also an amazing 250-seat Performing Arts Auditorium with programs scheduled throughout the year.
The beautiful Village Greene area also offers Members opportunities for socializing and fun, including Bocce Ball tournaments and matches by the USCA sanctioned Croquet Team. On Vicar's Landing Center Lake within the community is where you will see the Vicar's Landing Yacht Club competitively racing colorful, scaled-down remote control sailboats. Members also have available a Library and a Card Room offering Bridge, as well as Hearts tournaments where Members can socialize with neighbors and friends.
An on-site, state-of-the-art Fitness Center is available to ensure Members can stay fit, healthy and active. The center offers organized exercise classes, such as Tai Chi, Aerobics and Yoga, as well as weights, treadmills and stationary bicycles. Work out with others or on your own the choice for a healthy lifestyle is only steps from home. The swimming pool is heated and open year-round as well and provides more options for exercise. Enjoy a recreational swim or join in the Aquasise classes taught by a certified teacher. Of course, the pool isn't only for exercise – members can also simply relax poolside with a good book and some Florida sunshine.
One of the best things about this Life Choice Community™ is the peace of mind that comes with knowing that everything you need is at your fingertips. The residents of Vicar's Landing feel safe and secure within the private gated community, where they can get their spiritual needs met at the multi-faith Worship Center, and attend to daily tasks with on-site mail services and a hair salon for men and women. Casual and fine dining are available within the community. Members can grab a quick bite at the Blue Heron Cafe or enjoy a meal in a more formal setting at the beautiful, newly remodeled lake-side Dining Room.
Vicar's Landing has all the amenities today's active retirees are looking for, including the fabulous location inside Sawgrass Players Club. Sawgrass Village, with restaurants and shopping, is only a short stroll away. The beach, world-renowned golfing, historic St. Augustine and downtown Jacksonville are close to home. With all of the first-class features and activities offered within this beautiful community, it's no wonder demand for a home at Vicar's Landing is high. Schedule a tour here to visit this award-winning retirement community, Vicar's Landing, the retirement resort at TPC Sawgrass.